Written on 11:24 PM by Cara
*note: For some reason, Blogger wouldn't take these pictures off my hardrive so I had to use the ones I had in Photobucket. So the pictures are slightly pixelated. When we set them back up at Christmas this year I'll take new pictures and replace these. Sorry about that.*

I made the Charlie Brown guys for our yard at Christmas. I always wanted cute stuff for the yard and the Charlie Brown Christmas show is my favorite, so it was an easy choice. A Pea at 2Ps gave me the idea and I ran with it. I'll show some of the process and a few how-tos at the bottom.

Right side of the circle drive:


Left side of the circle drive: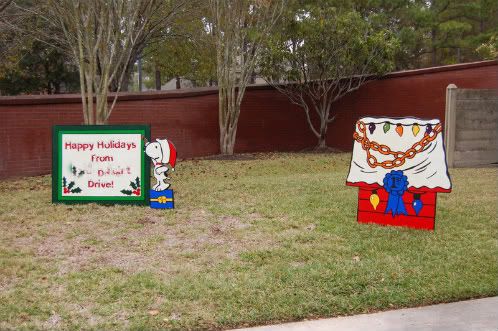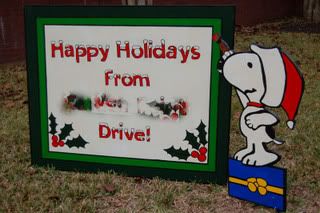 Inside the circle drive: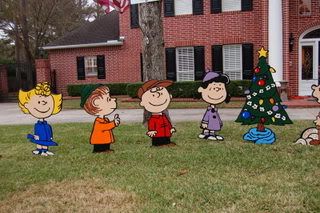 The Guys: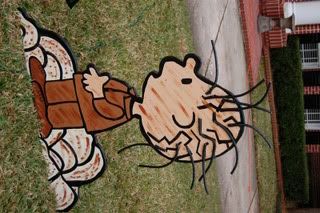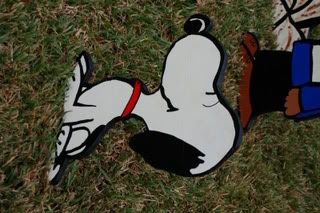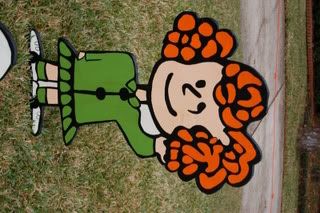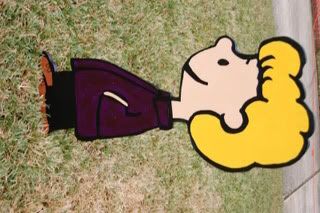 I used high quality 3/4" plywood that had a "good" side. I used plain old craft paint and paint pens you get at Walmart or a craft store. Here is the back view, I painted the edges and backs black. I attached "rebar stakes" I found at Lowe's to them to stick them in the ground.
I got the pictures from books and the internet. I used a projection machine called an "Art Tracer Jr." I bought at Michaels to project the images onto the plywood, it uses regular images on paper, not transparancies like an overhead projector. You have to use thick outlines to keep the ratio right so they look right. I drew them with black paint pens, painted in the colors with brushes and craft paint, and then filled out the lines with the paint pens. My husband cut them all out with a jigsaw and I sanded the edges well.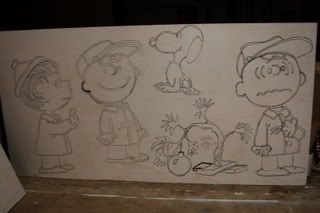 Being sanded to get ready to paint: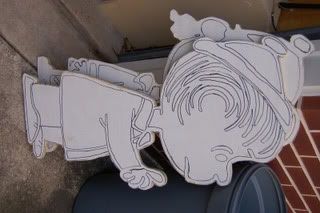 A note about PigPen's hair. As you can see, I tried to draw it on at first and it looked like his brain was exposed, poor alien PigPen. So I asked my husband what I could use and he said he had some TV cable in the garage. So I staple gunned it to the poor kid's head (as you can see in the picture above under "The Guys"). He whimpered for a minute but then he was glad not to be alien PP anymore.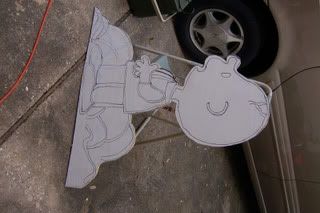 Another tip: Do not start this project 3 weeks before Thanksgiving thinking you'll finish before the holidays start, because you won't. Even if you spend hours a day in the garage. Do this in the summer, really, take my word for it, because you won't be done until the first week in December and then you'll be scrambling to get all your other Christmas stuff done.

If you enjoyed this post
Subscribe to our feed